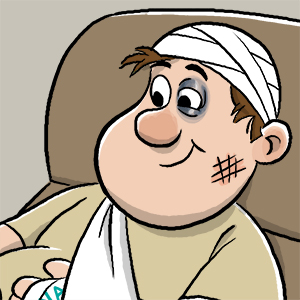 According to a Cigna survey, about 50% of workers like their jobs, and 10% would continue working the same job even if they had enough money to never work again.
However, the survey also found that most workers did not have solid plans for sustaining income if they suffered a severe injury or disability. In 2018, more than 1.5 million American workers suffered illnesses or injuries that resulted in long-term work absences from work, meaning they were unable to earn a paycheck.
Of the workers who reported taking steps to financially protect themselves, these are some examples of their positive actions:
Adopting a healthy lifestyle to prevent chronic illnesses from occurring in the first place.
Saving money for unexpected health issues.
Being extra cautious to avoid sustaining injuries, either at work or outside of work. 
Only 10% of survey responders had disability insurance or a similar plan such as critical illness insurance. The Bureau of Labor Statistics reports that less than 40% of those who work in the private sector have short-term disability insurance, and even fewer carry long-term disability coverage.

In the Cigna study, almost 45% of participants reported worrying about how they would pay medical costs that their plans would not cover if they were seriously injured. 
Government disability benefits only replace a fraction of a worker's income. However, supplemental personal policies can help fill those gaps.
Disability insurance, accidental injury, critical illness, and hospital indemnity can help reduce the financial struggles you'd likely face if you were recuperating and unable to work for an extended period of time. These policies will kick in regardless of if an injury or illness was due to an event in your workplace or outside of work. 
Many disability plans also include services designed to help people stay at work even if they cannot return to the exact same position. If they are unable to return to work at all, most disability plans offer assistance in obtaining Social Security benefits as well.
Unfortunately, many survey respondents mistakenly believed that the Family and Medical Leave Act's provisions would suffice for a long-term absence after an injury.
However, FML provisions only cover periods of absence and do not offer any financial assistance. To learn more about employer-sponsored disability coverage and other supplemental options, call us.